Evidence of Excellence: Net Promoter Score

How many of your partners really provide evidence of excellence?  At Salem our culture keeps us focused on two realities:
• First, we should never expect a new organization to invest its most important asset its time in meeting with us if we haven't first provided them with evidence of real excellence.
• Secondly, if we're really that good we don't have to tell everyone— they tell us!
The Salem Group received a Net Promoter Score® of 94.1% for the Client satisfaction survey feedback that was collected by ClearlyRated on our behalf in October 2020.
HOW DOES THE SALEM GROUP COMPARE BY NET PROMOTER SCORE?
• The Salem Group — 94.1%
• 2021 Best of Staffing Average — 78.3%
• 2020 Staffing Industry Average — 28.0%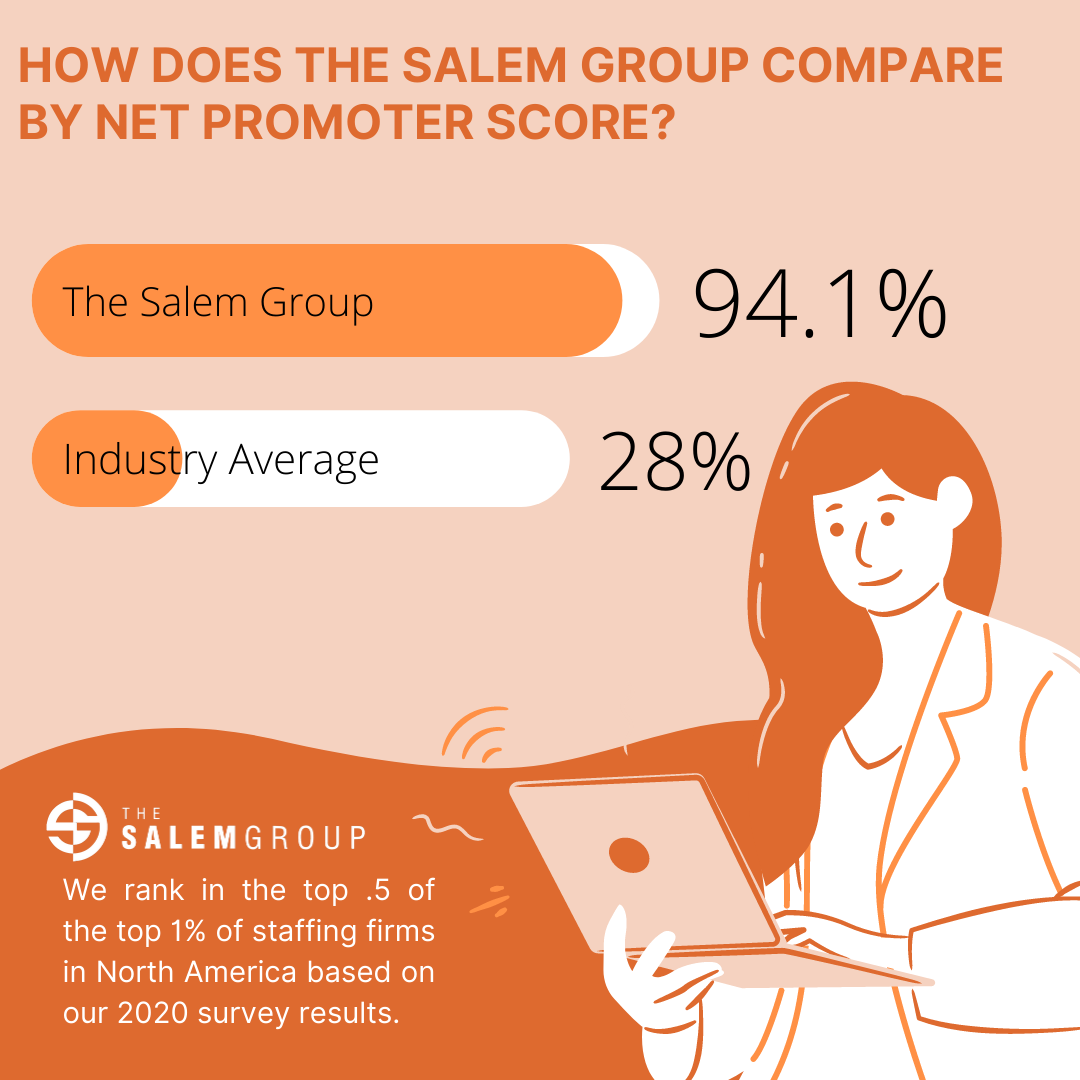 WHAT IS A NET PROMOTER SCORE?
A Net Promoter Score is a simple satisfaction metric that is based on the single 11 point scale survey question "how likely are you to recommend XYZ Company to a friend or colleague?" Survey respondents are broken into 3 categories, depending on the score they give:
Promoters - respondents who answer a 9 or 10 to the recommend question represent a firm's strongest allies and are most likely to promote the firm to others.
Passives - respondents who answer a 7 or 8 to the recommend question are likely satisfied with the firm, but not out actively promoting it to others.
Detractors - respondents who answer with a 6 or lower are likely to be un-satisfied and may even be looking to switch to a new firm.
The Net Promoter Score is calculated by taking the % of promoters minus the % of detractors. The Net Promoter Score was developed by Bain consultant and author Frederick Reicheld. More information on Net Promoter Score can be found at www.netpromoter.com.
For a copy of our 2021 Client Satisfaction Summary or to request talent or services call us at 630-932-7000 or send us an email!