The Salem Group Achieves Double Diamond Status from ClearlyRated's 2020 Best of Staffing Awards

THE SALEM GROUP WINS CLEARLYRATED'S 2020 BEST OF STAFFING CLIENT AND TALENT DIAMOND AWARDS FOR SERVICE EXCELLENCE
Diamond Award winners have won the Best of Staffing Award for a minimum of 5 years in a row, consistently earning industry-leading satisfaction scores from clients and job seekers.
OAKBROOK TERRACE, ILLINOIS – FEBRUARY 4, 2020 – The Salem Group, a leading staffing firm, announced today that they have won Best of Staffing® Client and Talent Diamond Awards for providing superior service to their clients and candidates for the last five+ (5+) consecutive years. They are a 7-time winner of the Best of Staffing Client Satisfaction award and a 6-time winner of the Best of Staffing Talent Satisfaction award. Presented in partnership with presenting sponsor, CareerBuilder, and gold sponsors Indeed and Glassdoor, ClearlyRated's ClearlyRated's Best of Staffing® Award winners have proven to be industry leaders in service quality based entirely on ratings provided by their clients and candidates. On average, clients of winning agencies are 330% more likely to be completely satisfied and candidates who have been placed by winning agencies are 170% times more likely to be completely satisfied with the services provided compared to those working with non-winning agencies. The Salem Group received client satisfaction scores over 7 times higher than the industry's average.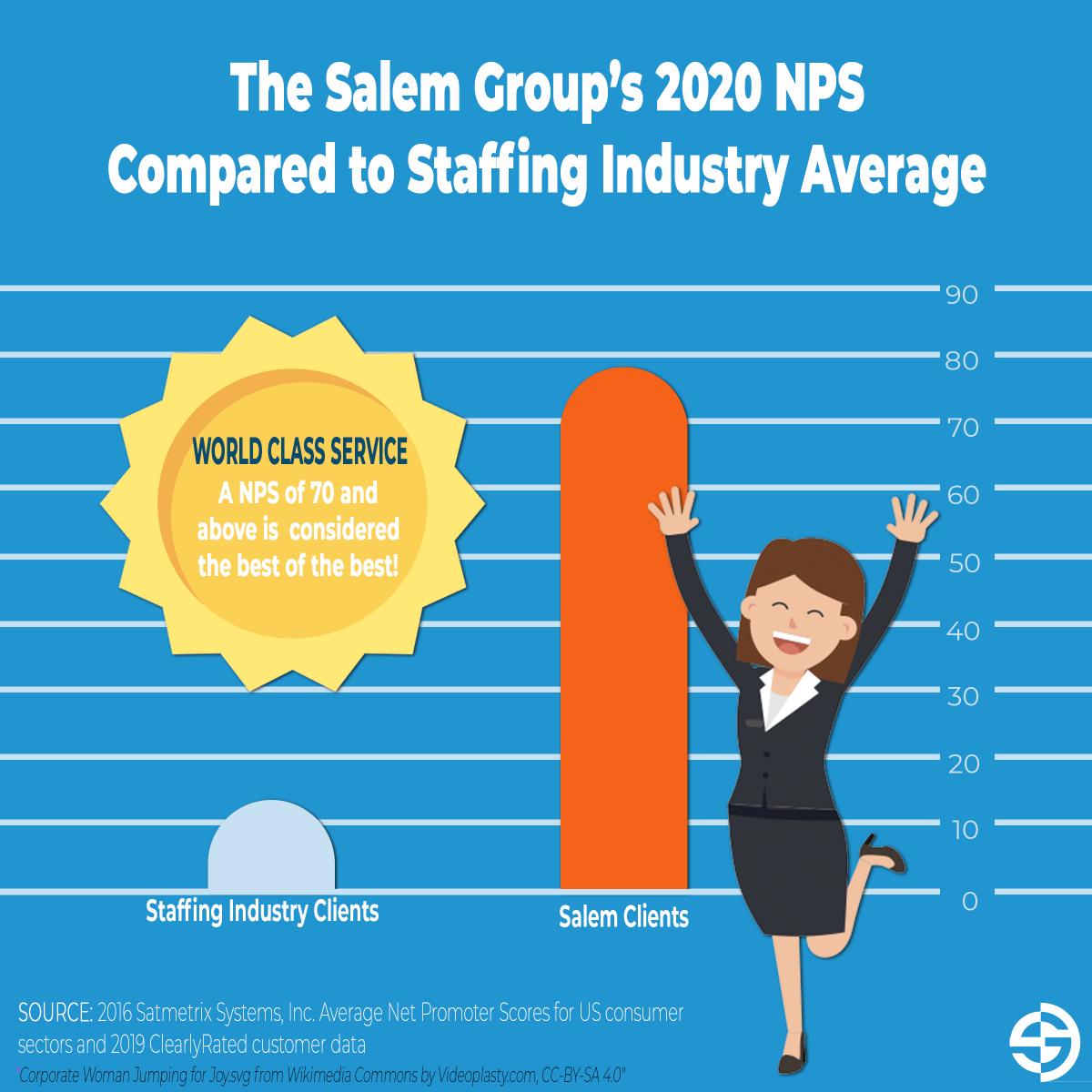 "Clearlyrated's Best of Staffing award is like the Super Bowl for the staffing industry and being a Double Diamond recipient is validation that we're not only a great company to work for, we're also a great company to work with. Our clients count on us for extraordinary fit, speed, and innovation—for being an extraordinary partner," said Dori Lorenz, President and CEO of The Salem Group. "Innovation is in our DNA. We have been first to market with so many industry breakthroughs and now, with the tightest labor market in over half a century and the corresponding changing dynamics of blended workforces, I think we're uniquely positioned to be the partner of choice for demanding and forward-thinking organizations."
"Now more than ever, it is important for staffing firms to deliver consistently remarkable experiences to the clients and talent they work with," said ClearlyRated's CEO Eric Gregg. "This year's Best of Staffing winners have shown their commitment to exceptional service, committing to not only measuring satisfaction, but taking action on the feedback. I couldn't be more proud to showcase these industry leaders alongside feedback from their actual clients and candidates on ClearlyRated.com and applaud them for their commitment to making improvements at their respective firms!"
About The Salem Group
The Salem Group is a privately held, multi-divisional strategic staffing and workforce management company headquartered in Oakbrook Terrace, Illinois. A certified Woman-Owned Business Enterprise (WBE), The Salem Group originally became renowned for its administrative and financial staffing and has grown to encompass specialized divisions for technical, IT, engineering, and land right-of-way staffing as well as a full portfolio of managed services including ProjectPeoplesm for managed large project staffing, intern program management, and comprehensive payrolling services. The Salem Group combines the art of staffing with the science of selection to deliver outstanding service to our clients and assignment employees. The Salem Group has won Best of Staffing® Client for seven consecutive years and is a six-time recipient of the Best of Staffing® Talent award. Learn more at Saleminc.com/about-us/certifications-awards/
About ClearlyRated
Rooted in satisfaction research for professional service firms, ClearlyRated utilizes a Net Promoter Score survey program to help professional service firms measure their service experience, build online reputation, and differentiate on service quality. Learn more at https://www.clearlyrated.com/solutions/.
About Best of Staffing
ClearlyRated's Best of Staffing® Award is the only award in the U.S. and Canada that recognizes staffing agencies that have proven superior service quality based entirely on ratings provided by their clients and job candidates. Award winners are showcased by city and area of expertise on ClearlyRated.com – an online business directory that helps buyers of professional services find service leaders and vet prospective firms – based exclusively on validated client and talent ratings and testimonials.