The Salem Group Wins "Chicago's Best and Brightest Companies to Work For" Award

We may have won "Chicago's Best and Brightest Companies to Work For®" but don't worry, we won't let it go to our heads – but we DO proudly wear our hearts on our sleeves. At Salem we are passionate about staffing, and we are honored to be named among the top 180 companies in the Chicagoland area!
We truly believe that our amazing clients and talented assignment employees
deserve to work with the best in the business.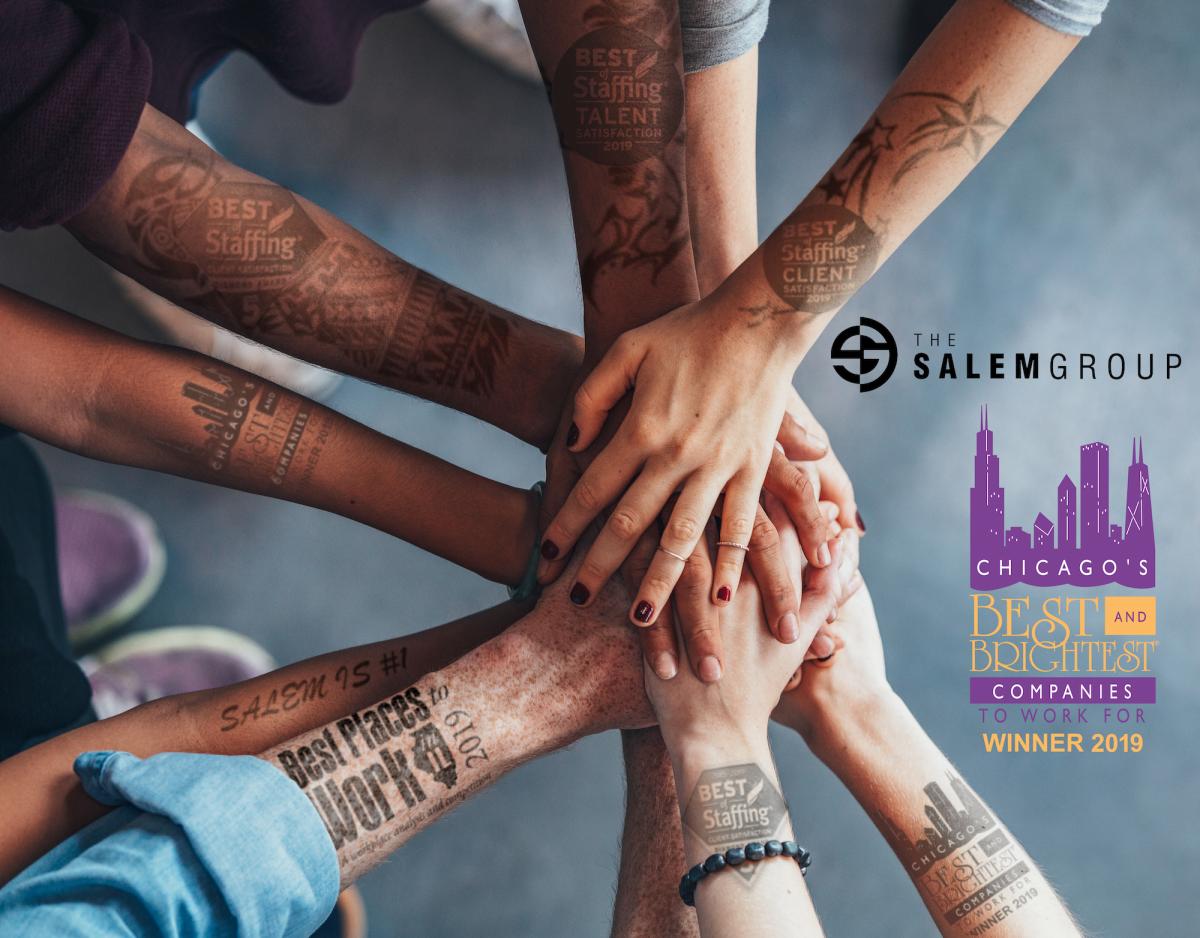 "Now with the war for talent hitting the doorsteps of the Best and Brightest, this achievement means even more than a year ago. As we continue to raise the bar, these companies rise to the challenge through their cultural innovation by maximizing their workforce potential." – Jennifer Kluge, President and CEO, Best and Brightest Programs.
Every year companies throughout Chicago compete to be named one of "Chicago's Best and Brightest Companies to Work For®." Only companies that distinguish themselves as having the most innovative and thoughtful human resources approach can receive this honor. These select companies will be honored on Monday, September 16th at the Renaissance Chicago Downtown Hotel. This year's symposium and gala will be in conjunction with the Inaugural Best and Brightest National Summit.
To receive this award, an independent research firm evaluates each company's entry, based on key measures in various categories. They include Compensation, Benefits and Employee Solutions; Employee Enrichment, Engagement and Retention; Employee Education and Development; Recruitment, Selection and Orientation; Employee Achievement and Recognition; Communication and Shared Vision; Diversity and Inclusion; Work-Life Balance; Community Initiatives; and Strategic Company Performance. 
About The Salem Group
The Salem Group is a privately held, multi-divisional strategic staffing and workforce management company headquartered in Oakbrook Terrace, Illinois. With over 30 years' experience in the staffing industry, The Salem Group is a certified Woman-Owned Business Enterprise (WBE) which provides world-class staff augmentation, strategic workforce solutions, web-enabled contingent workforce procurement and management applications to better manage service delivery and talent supply chains. The Salem Group has won Inavero's Best of Staffing® Client for 6 consecutive years and is a 5-time recipient of the Best of Staffing® Talent award. For More info on The Salem Group's awards, please visit our Certifications and Awards page.
About the Best and Brightest Programs
The Best and Brightest Companies to Work For® is a program of the National Association for Business Resources that provides the business community with the opportunity to gain recognition, showcase their best practices and demonstrate why they are an ideal place for employees to work. This national program celebrates those companies that are making better business, creating richer lives and building a stronger community as a whole. The "Best and Brightest Companies to Work For® has annual symposium and award galas presented in Atlanta, Boston, Chicago, Dallas, Detroit, Grand Rapids, Houston, Milwaukee, San Diego and San Francisco. For more info or to see the full list of 2019 winners, visit their website here.